I am very uneducated by human standards but I am much, much smarter than the average bear! I have trouble with some human contraptions such as a keyboard which is certainly not very user friendly to my big paws.

I became interested in photography at a young age and take a lot of pictures. In my cave during the winter I look at all the lush greenery and dream of all the food I ate. I have many pictures of delicious berries and nuts. I really need a video camera to do justice to my favorite foods; ants and grubs.
I am currently unemployed but do odd jobs mostly connected with firewood. I am available for wildlive consulting during the summer months only. I will work for peanuts or corn or apples but Nuts and Honey are really preferred.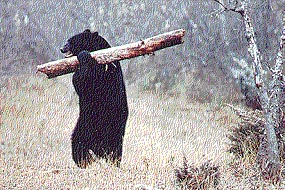 GOT HONEY?

My favorite songs: The Bear Came Over the Mountain and Bearcat Mama From Horner's Corners

My favorite books are: Red Wolves and Black Bears, A Black Bear's Story, and Bears of the World